The crunch under my feet could only be described as that of fresh fallen snow. I saw the white blanket of death outside my window in the early morning hours, but felt confident enough to get into my car and start my commute to work. The sky was still dark, providing just enough light to reflect off the smooth, unscathed snow.
I slowly backed my two wheel drive vehicle out of my driveway with vigilance, quietly praying that I didn't glissade into a ditch. The first slip of the wheels should have been enough for me to turn around and crawl back into bed, surely it was still warm with two lazy felines laying atop the blankets.
The first hill out of my driveway caused my wheels to spin, but my car couldn't be bothered to project forward. Shit. I don't dare quit yet, I haven't made it to the main roads and surely they have more traction. Wrong. Out of the hood I come and the moment of truth is staring me in the face like a creature without eyelids. This blink-less stare off between me and the while icy roads lasts much longer than it should have.
I grip my steering wheel with a potent force strong enough to crush steel with my bare hands. The fear building inside my soul can only be expressed properly though interpretive dance, where my arms flail in the air like one of those blow up tube men shown at car sales.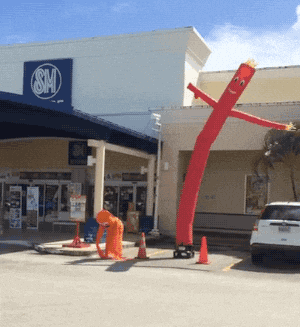 My breaks don't work the way they were designed to as I make my way down the hill, but I slowly pump them anyway in an attempt to defy the odds. As a child I would often defy the rules of life and this is something I've carried into my adulthood. I make it to the bottom of the hill, but not without my life flashing before my eyes in a horrifyingly detailed way.
"I haven't hit the summit of Machu Picchu yet, I haven't had any cookies today, OH THE HORROR I haven't met Tom Hiddleston!" Snow capped trees surround me as I try to find the beauty in the adventure of driving my "not made for snow" vehicle further and further from the safe confines of my house.
Suddenly a thought pops into my head. "WHAT IF, I actually listen to my gut today. WHAT IF I go back home?" Will the world stop turning? Will I sink to the fiery depths of hell? Will I loose all my hair? Oh wait, that already happened.
I fought against my "you can't NOT go to work" mindset and made the second best decision of the morning. I turned around and went back home. The first best decision was to make a giant bowl of oatmeal with a side of delicious coffee. Enjoyed while gazing at the white world around me.
The final test was getting up the large hill I managed to get down. A woman stands to my left shoveling her driveway and I yell at her to "STAND BACK" as if she can hear me through the walls of my car. Heaven forbid I loose control of my car and run into her going 5MPH. I make it. Back in my neighborhood my journey is almost over.
I can almost hear the angels singing as they welcome me back home, but not before I try and fail three times to get into my driveway. My driveway with a mere 5 degree angle. The fourth time was the charm. I walk through the door, drop my jacket to the floor, declare my presence to my fur children and breath a sigh of relief. I made it.
In all reality I can be quite dramatic, but driving in the snow terrifies me almost more than the thought of what might lurk under my bed. I've now officially begun my search for an AWD vehicle, if only I can overcome the separation anxiety for my current car.
Q: Do you like driving in the snow?